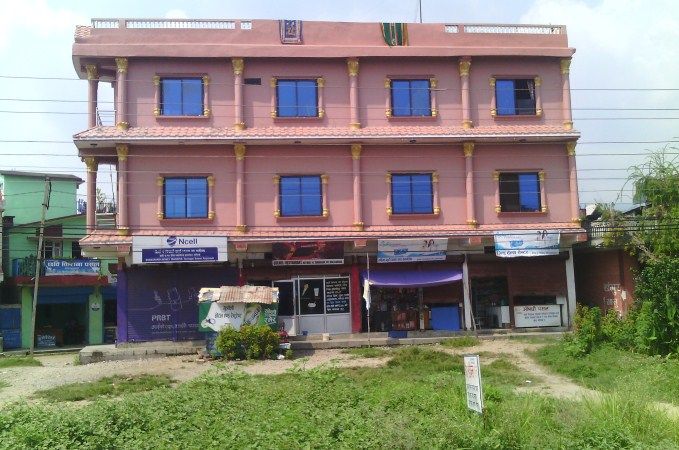 Bedrooms:
3
Bathrooms:
3
Land Area:
10 Dhur
House Area:
10 Dhur
Distance From Main Road :
o m
Parking:
Yes
Facing Towards:
South
Built in:
2069
Three storey commercial building is available on urgent sale at Butwal-14, Tamnagar Chowk.  The building is located on main 82 ft western highway and it has 20ft side road. Details are given below:
Ground Floor details: 4 shutters.
1st floor details: 1 hall room, 1 bed room, toilet and bathroom.
2nd Floor details: 3 bed room, 1 waiting room, 1 kithen and 1 bathroom.
Property Area Detail:
| | |
| --- | --- |
| Land Area | 10 Dhur |
| House Area | 10 Dhur |
| Facing Towards | South |
| Parking Space | Yes |
Rooms & Floors Details:
| | |
| --- | --- |
| No. Of Floors | 3 |
| Type of floor | Marble |
| No. of Bed rooms | 4 |
| No. of toilets | 3 |
| No. of Bathrooms | 3 |
| No. of Kitchens | 2 |
| No. of Hall Rooms | 1 |
Accessibility Information:
| | |
| --- | --- |
| Distance of Property From main road | Its on highway |
| Front Road width | 170 ft |
| Access Road Type | Pitched |
Useful details:
Full address

Tamnagar ward no. 14, Butwal
Suitable for

Commercial
Owner contact details


Tara Prasad Gautam

Ph. 071445230

Mob: 9857026169, 9747012653

Email: [email protected]